Year 8 Success in the Sea Cadets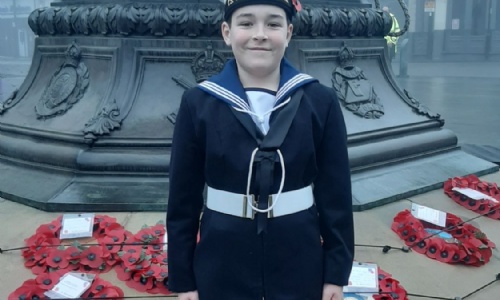 Working hard in the Sheffield Sea and Royal Marine Cadets
Congratulations to one of our Year 8 students Cameron who has been very busy recently. He is a member of the Sheffield Sea and Royal Marine Cadets, and recently won a national song writing competition with a song he composed and performed himself called Red: a reflective song all about the poppy and remembrance. Cameron received a special award and £75 from the Sea Cadets Corps and his song was played on BBC radio Sheffield alongside a live radio interview.
Over the past few months he has been fundraising for The Royal British Legion Industries and The Royal British Legion and has raised well over £500 with a sponsored bugle blow to mark VJ day 75 commemorations and a Move to Remember challenge which has involved him walking, running and cycling 11 miles visiting local war memorials along the way.
On Remembrance Sunday he was one of only two cadets from across the whole of Sheffield to be invited to take part in a socially distanced remembrance service organised by Sheffield City Council at the cenotaph in the town centre. Well done, Cameron!