Headteacher's Reflections on the Half Term Ahead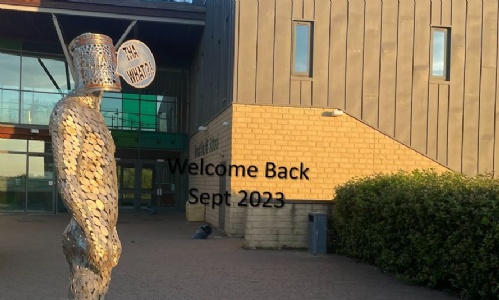 "Intelligence plus character — that is the goal of true education." —Martin Luther King Jr.
As the summer seems to briefly return, so we return to school for the Autumn term, the new school year and all the optimism it brings. It has been wonderful to welcome both familiar faces and new starters – both students and staff. Our Year 7s have made a great first impression and have found their feet well, as have our new staff. It feels a real privilege that, in the face of the continuing recruitment and retention concerns across the country, we are fully staffed with specialist teachers at Bradfield.
High Expectations For All
My assemblies this week have focused on setting high expectations and reminders for our students about our standards, and the reasons behind them. This was reinforced through form tutors and, of course, in lessons. School is about belonging to a community and feeling that sense of belonging, so it is important that we wear our uniform with pride. It is also obviously a place of learning, so it is important to come fully equipped for the day and arrive on time – all key attributes to be successful in the wider world too. In my assemblies, I reminded our student of our rules on mobiles, ear pods and all electronic devices: these are to be kept away and not used between 8.30 am to 2.55pm, including social times. Again, the 'why' here is important, and I have shared this with the students: breaks from screens helps with mental health and wellbeing, whilst not listening to music or staring at a phone means we can converse with others, listen to instructions and teaching, and avoid distraction. Given the plethora of online bullying social media can facilitate, it also ensures that this does not happen at school.
Other reminders have centred on looking after one another, ourselves and our environment, and remaining safe: putting litter in bins, only going into the toilets on our own (as all our toilets are individual cubicles), and paying attention to staff on bus duty, only moving when it is safe to do so. I also spent a lot of time discussing the adverse effects of vaping and their staggeringly high amounts of nicotine. I am saddened but not surprised that we have received concerns from some of our new Year 7 parents and carers where students have been vaping at bus stops and on buses. We will continue to work with students to educate and reduce this, and I only wish it was as difficult for children to buy vapes as it now quite rightly is to buy cigarettes.
School Development Priorities
I also shared with our staff this week our key areas for our school development plan this year. Student attendance, of all our children, but especially of our most vulnerable, is vital: if students are not coming to school, they are unlikely to do as well as they could. I shared with students the national data on the differences in outcomes for those with 95% compared to 80% attendance: a grade higher in every GCSE when looking at students of similar ability.
The progress of higher attainers on entry is crucial, especially given the amazing work our primaries do with the children coming to us each year. We were delighted with so many of our Year 11 results this summer and want to build on this - aiming at level 7s and above where students are coming to us from such high starting points. And finally, continuing to educate students about and advocate for people with protected characteristics is critical. School is a microcosm of the wider world; we want to ensure that we are a school where everyone feels they can be themselves, be valued and value others.
Specifying priorities does not mean, of course, that these are the only things we will focus on. Nonetheless, the areas I mention here I know are of the utmost importance to continue improving Bradfield School.
A Community
Bradfield School is very lucky to have so much support from our parents and carers, and I always appreciate the significant part you play in the success of our young people. We are looking forward to inviting many of you in to collaborate on the journey of the school this year in our parent forums, and to celebrating our students' successes – including some of our outstanding summer results – later this term and over the year.
For now, a few timely reminders to support our students' punctuality and safety. Firstly, thank you for ensuring your child is at school for 8.20 am to ensure they are in their rooms for a prompt 8.30 start: it is harder to reinforce the importance of punctuality to our students if they are dropped off after this time, and it impedes the smooth start to their own day as they miss important messages and teaching during form time if they come late. Secondly, we ask parents / carers who drive your children to and from school to please park outside the school car park. Students can then use the pathways to leave the school and are not tempted to run across the car park without paying due attention to the buses arriving or cars leaving. This makes school a safer place at the end of the day.
Bradfield School remains a school as rooted in its community as ever, and we were deeply saddened by the death of a much-valued colleague over the summer holidays. One of her regular sayings currently adorns our cloud man outside the school, as you can see on the photo. Janette Hodkinson, one of our caretakers, sadly died and leaves a huge sense of loss behind her. And, as the quotation that starts this post says, education should be about intelligence and character. Janette absolutely embodied the values of the school – that it should be a place where all people thrive, and that all work to support one another. We will remember her later in the school year through charitable collection and donation to one of the many causes, such as the S6 foodbank, that we know she held dear.
Adrian May
Headteacher