Building a Better Bradfield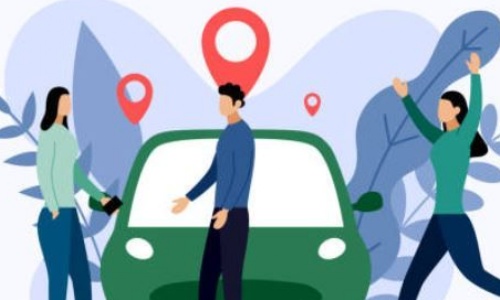 Year 10 Active Travel Ambassadors at Bradfield win top funding
There aren't many Geography classrooms in the world that have a view better than the one I'm teaching in at Bradfield. That awesome sight of Wharncliffe Woods leading away to the Peak District comes in really handy when I'm teaching about field sketches, weather patterns, national parks and a whole range of other geographical topics – and all because of Bradfield School's stunning location.
The rural nature of the school, though, does have drawbacks. I've been working with an enthusiastic group of Year 10 Geography students and a sustainable transport organisation called Modeshift to see if we can get students at the school thinking about their own journeys in a more environmentally friendly manner.
We've carried out surveys and talked to many students to look at how they are getting to and from school. What we've discovered so far will not surprise you. If you build a school at the top of a hill exposed to all kinds of weather, it's not somewhere kids want to walk to. If your catchment means children are travelling from miles away and the roads are steep and often without pavements, it's not going to tempt young people to take up cycling to school. With buses leaving early in the morning, plenty of our teenagers said they wanted a lift to school in a car if possible. In fact, the findings of our survey were unlike any other school in the city, primarily because of where we are; Students didn't want to take up more sustainable forms of travel like public transport, walking and cycling – they wanted to come by car.
This left our Year 10 'Active Travel Ambassadors' in somewhat of a pickle. They had to come up with some inventive ideas to pitch to a group of business leaders (Dragon's Den style) in the hope of getting funding to boost sustainable travel at Bradfield. Given the results of the survey, they decided to focus on car sharing. If cycling up Long Lane is not going to appeal to young folk from Stannington and walking up from Hillsborough is not an option on dark, rainy mornings, the group is hoping to reduce the number of cars making the journey to school at drop off and pick up times. As well as encouraging more to make the trip by bus, we're also looking at ways we might get friends sharing lifts rather than driving up to Kirk Edge Road with only one student on board.
The students made their pitch to the Dragons on Tuesday (March 28th), using the slogan 'Building a Better Bradfield' and wearing hi-vis vests to give the 'build' focus extra emphasis! They were awesome. All of them. Every one of the 11 Ambassadors were involved in speaking to the Dragons and they comprehensively presented the ideas they had come up with. I'm very pleased to say that the Dragons – which included Olympic cycling medallist Ed Clancy – also thought they were fantastic and awarded them the top amount of funding - £250.
So how do we go about reducing the number of cars outside Bradfield in the morning? The Active Travel Ambassadors in Year 10 are brimming with ideas and we hope to update you in another blog later this year. So watch this space, but for now a massive 'well done' to the school's Active Travel Ambassadors in Y10 – Grace Dalton, Victoria Fox, Harry Hague, Harriet Johnson Fynn Keppas, George Laughton, Isla Mentz, Willow Naldrett, Erin Sayan, Maddie Thompson and Lily Wood.
Pete Naldrett
Geography teacher