Together we are better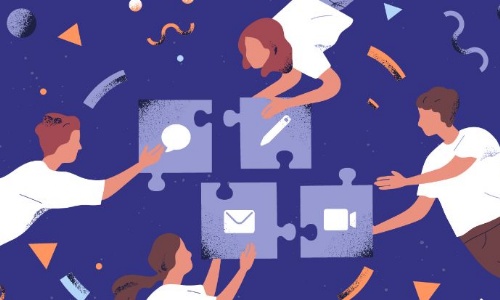 "We are stronger when we listen, we are smarter when we share."
The film music composer John Powell once said, "Communication works for those who work at it." At Bradfield, communication with our wider community is something we are continuing to focus on; indeed, working on our Communications Policy has been one of the first areas our Local Governing Board asked we refine and develop. We look forward to sharing this with you later this term. As the Queen of Jordan, Rania Al-Abdullah has said, "We are stronger when we listen, and smarter when we share." Listening to our parents and carers is a key part of our communication, and we thought it a good start to the new calendar year to share with you some of the actions we have taken, or are in the process of doing, as a result of listening to your voice.
More communication, more often.
One of the key pieces of feedback over the last year from you has been a desire to hear more from school, and not just focused on our behaviour policies. Last year, this led to the Bradfield News, written via some of our talented students. This was welcomed but did not answer a desire to hear more from the Senior Leadership Team, and other staff, more often, in shorter bursts. This has resulted in our regular Bradfield Blog, which we hope is giving you a flavour of the school improvement work and foci. We have been really heartened by some of the positive feedback about these posts.
We want to be able to know more as to how to help our children at home and know what they are learning in school.
This is of course exactly what all educators want to hear, and we continue to work on how we can best do this. Before Christmas, we updated our curriculum pages on our website to share the overview of each year in each subject, as well as sharing with you the intentions behind each subject area – looking at those key questions: What is the point of this subject? How do we hope to develop young people in this area of school? You can read these on our website under Learning at Bradfield / Curriculum.
Similarly, Lucy Dewsnap, Subject Lead for English and Strategic Lead for Reading across school started to send our new termly newsletter with recommended reads home last term, and we hope you have found that useful, and will continue to do so.
One of our intentions this year is to continue to share with you in advance the topics for assessment weeks for every year group: Year 11 revision topics for the mocks in February will be sent shortly, as will those for Year 7 and Year 10. Linked to this we are working towards sharing our knowledge organisers (one-page summaries of key knowledge) for most subjects with you at home via the website by the end of the year: this is quite a big task though and will take time!
We value parents' evenings and like to know how we can help at home
Thank you to the parents and carers of Year 11 students who responded to our survey last term after the Year 11 Parents' Evening. We were keen to know how you felt about continuing to hold Parents' Evenings over School Cloud. 70% of respondents said School Cloud was more convenient for them compared to only 8% that preferred face to face meetings, with 93% reporting that they were given clear information about how to support at home in all or most subjects. Currently we intend to continue Parents' Evenings this year via School Cloud and have worked with staff on maximising the time to limit social chat and focus on the 'what works well' and 'even better ifs' for your children in each subject. However, we also know that never coming into school really doesn't 'feel right' or help build that sense of community, which is why we have been delighted to welcome you back in the building for more events this academic year. From the Celebration Evening and How to Help Your Child Events in the Autumn term, the Christmas concerts in December, and Year 9 option evening this week, it has been good to see parents and carers back through the doors. We will keep the use of School Cloud under review and keep talking and listening to you about this.
We don't all use Twitter!
We know that social media is not for everyone, but that many find this a useful vehicle to stay in touch and celebrate the achievements at school. We have expanded to use Facebook as well as Twitter. On Twitter, we are @Brad_Updates and on Facebook, you can find us searching Bradfield School.
We welcome consulting us – ask our view
Our Sex Education and Relationships Policy is currently under review, and we are undertaking this in consultation with our parents and carers. We would therefore welcome your contributions and feedback, which can be emailed to: enquiries@bradfield.sheffield.sch.uk with the heading Sex Education and Relationships Policy Consultation. The policy itself can be found under Policies and Key Information on our website. Similarly, we have begun reviewing the Personal Development side of school – both in the taught Personal Development timetabled lessons, and wider through form time and assemblies and day to day interactions with staff. This term, we have begun by consulting our staff and will move onto speaking to students, and then parents and carers at home.
Finally, the Greek philosopher Epictetus said, "We have two ears and one mouth so that we can listen twice as much as we speak." We really do love hearing your positive feedback, which heartens our staff when their hard work with our young people is recognised. We are always happy to hear from you when you think there are further improvements we could make or concerns you need to share. A full and up-to-date list of who to contact for what, and how, can be found on our website under Contact Us.
Deborah Banks
Deputy Headteacher