Reach Out to Stop Bullying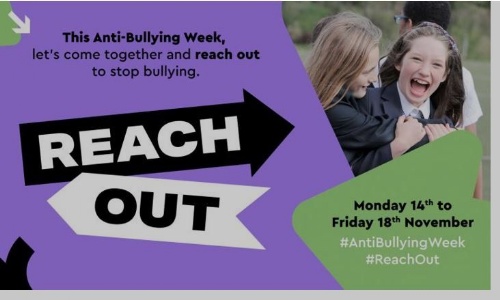 Anti Bullying Week 14th - 18th November
14th November was national Anti-Bullying week in England and Wales as many of you will be aware. In line with around 80% of schools, we delivered assemblies on this year's theme of "Reach Out", encouraging students to ask for support if they are struggling and to reach out to their peers if they see they are needing help. We asked them to reflect and consider how they can support one another but also how they must report and talk to any adult if they have any concerns. Students can also email any concerns they have about themselves or others to antibullying@bradfield.sheffield.sch.uk. The QR link is on our home page of this website and students' SharePoint page in school.
You can view the video we shared in assemblies in the link below.
Form tutors also discussed an anti-bullying pledge with their tutees, against bullying and all forms of it. These pledges will be displayed around the school in the coming weeks to keep reminding students to reach out and gain support.
The Diana Award
Over the last few months, there has been a lot of communication with the Diana Award, a national based charity to support anti-bullying. The charity has agreed to come to school in the new year to deliver training to our recently appointed Anti-bullying Ambassadors. We have Ambassadors in each year group who have met several times to discuss their ideas to help support their own peer group.
The Diana Award charity will deliver the training here at Bradfield. This is a really exciting opportunity for us to not only host the event for other schools in our Trust and nearby primary schools, but be the first school in Sheffield to have this training. We hope to host 100 students as part of this and look forward to updating you in the coming months. If you are interested, you can read more about the work of the Diana Award here.
Parents and carers
We appreciate the support recently from parents and careers, joining us as a school to discuss their ideas and thoughts on how we can work together to prevent bullying. Their feedback was invaluable, and, if you would like to share your ideas, please email me at htyrrell@bradfield.sheffield.sch.uk
Helen Tyrrell
Assistant Headteacher - Relationships and Behaviour